1. A Young Elephant's Love
An elephant calf in a rescue center in India's Bandipur National Park looks at the camera in a photograph by Your Shot member Abhiroop Ghosh Dastidar.
Dastidar submitted this picture to The Animals We Love, a Your Shot assignment that is accepting submissions until June 23, 2014. Photographer Robin Schwartz will choose the strongest pictures for an upcoming Your Shot story.
According to Dastidar, the elephant calf was left behind when villagers drove away a herd of raiding elephants. "Elephants are much like humans, emotional and extremely intelligent," Dastidar wrote in his caption. "The shock was so hard that this calf didn't survive," he said.
"The emotion is in her eye and in the tragedy of her story," said editing photographer Schwartz.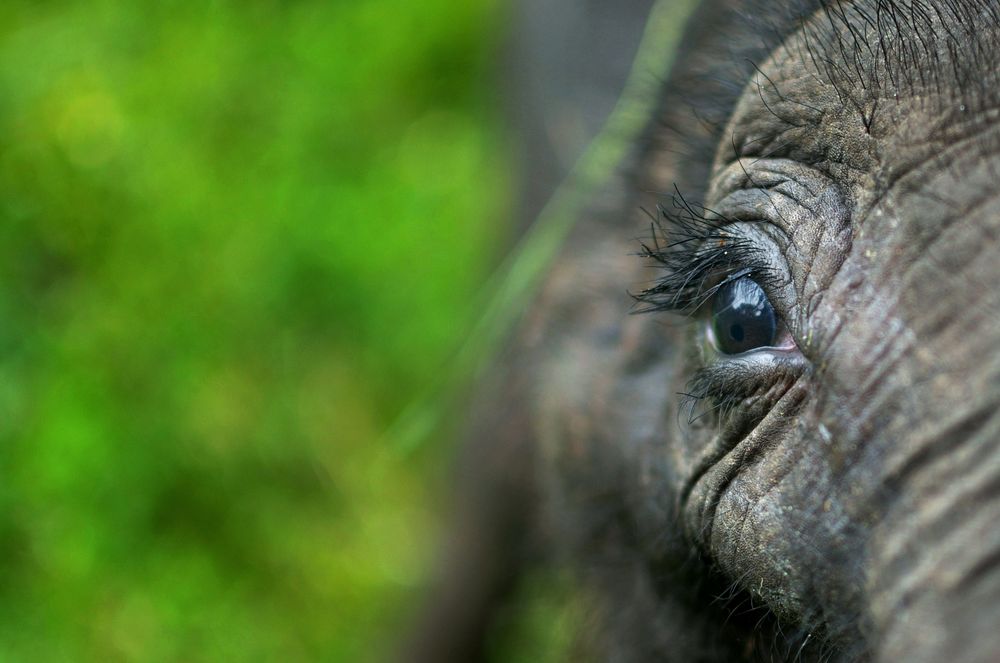 2.Bubble Piper
Agnieszka Cybulska of the United Kingdom submitted this picture to the assignment. "I'm photographing the most interesting moments in my own little garden, where the main characters are my children and our wonderful doggie," wrote Cybulska in the picture's caption.
When introducing the assignment, editing photographer Robin Schwartz wrote, "My editing challenge will be to differentiate between poignant and too cute. I'm sure I'll love all your photos but know I must make hard selections for this assignment."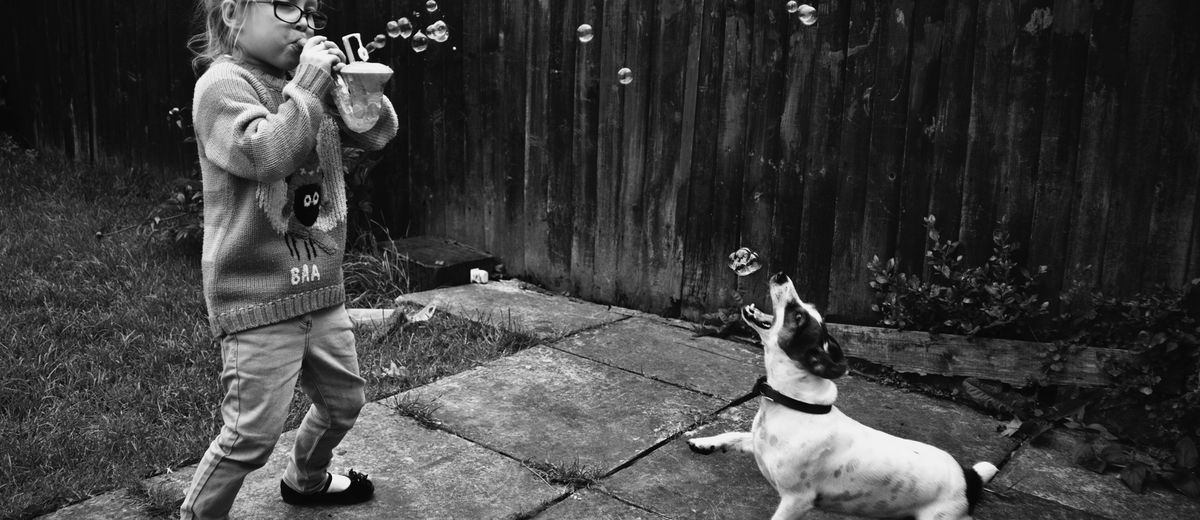 3. Yorkshire Terriers
Two Yorkshire terriers watch expectantly from a kitchen table in this picture submitted by Alexander Novikov of Moscow, Russia.
"It is most important to photograph what you care about and not worry about making a proper photograph. Never feel embarrassed about how much you care about animals!" said editing photographer Robin Schwartz in her introduction to the Your Shot assignment.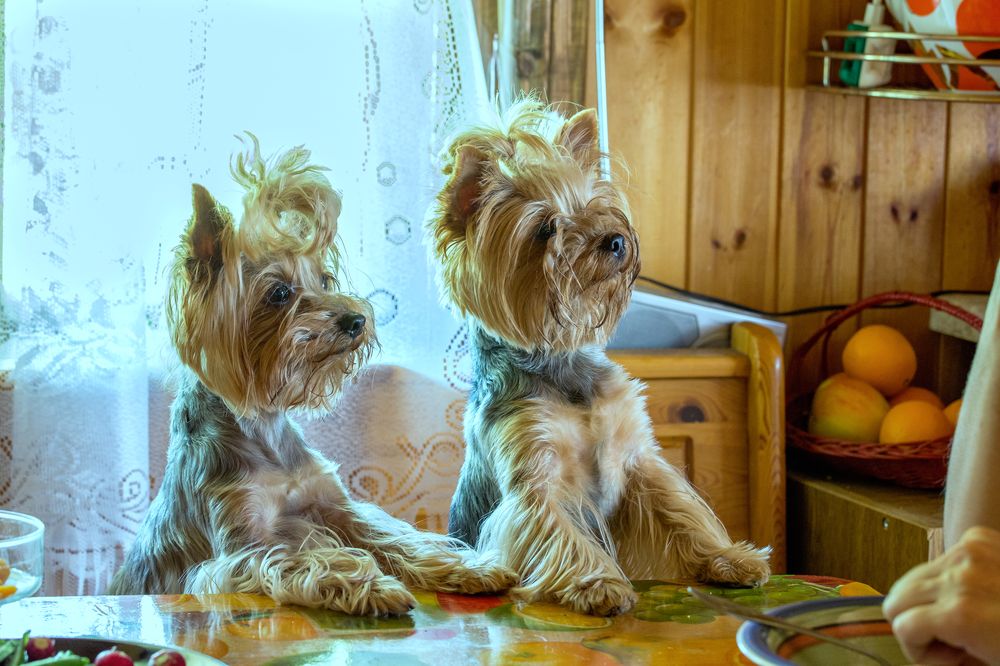 4. A Squirrel Named Gus
Gus came to stay with me at about four weeks old," said photographer Sarah Reed of the squirrel in this picture. "Once he was old enough, he was set free. He figured out how to build a nest and learned to stay away from cats. After a year, he still comes daily for peanuts on the deck."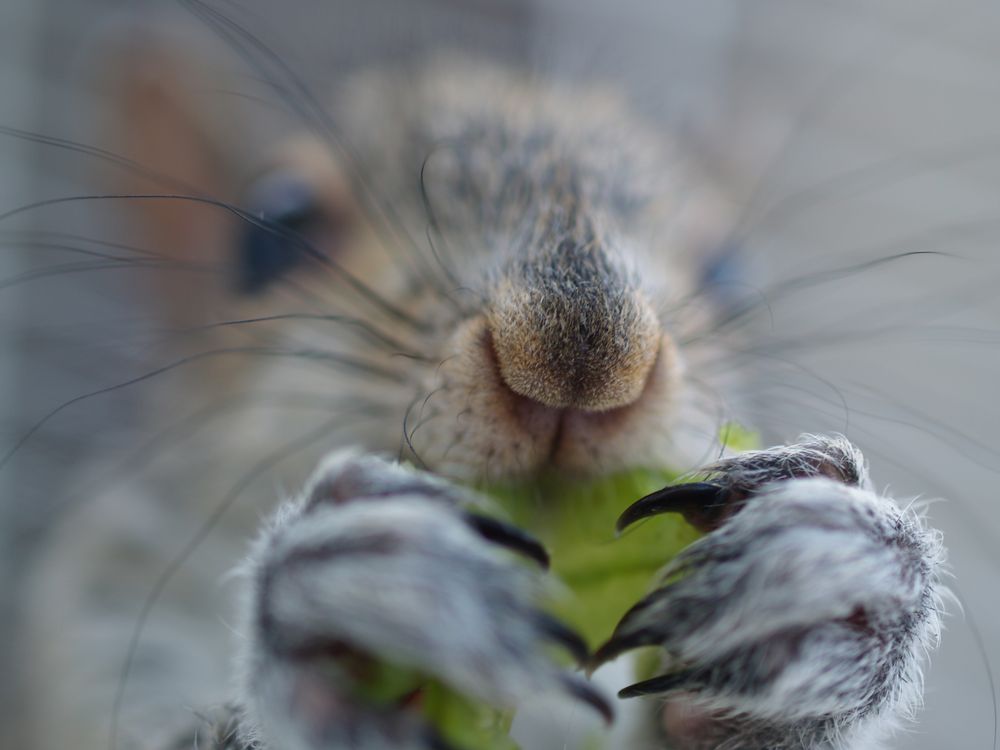 5. Rock or Ball?
As a tennis ball floats overhead, a husky named Cedar opts to retrieve a large stone instead. "This girl can't get enough of playing in and under the water," photographer Eiko Jones said in the picture's caption.
In a comment, fellow Your Shot member Jeannie Hardman added, "I hope [she] has a good dental plan!"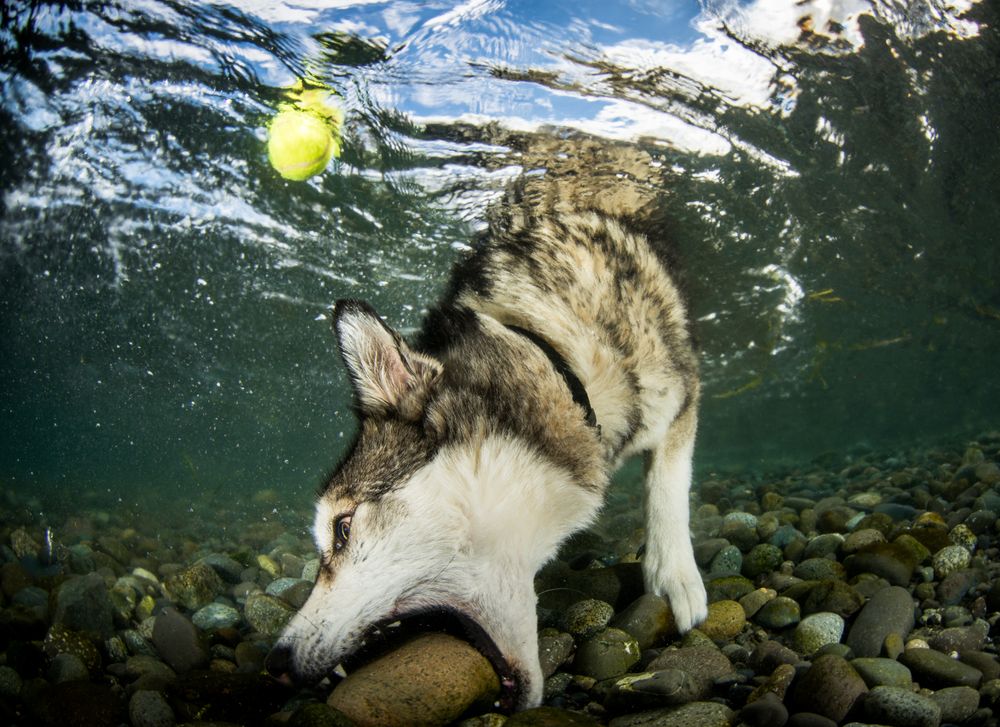 6. Testing the Merchandise
A cat stretches on top of garments for sale in Myanmar in this photograph by Your Shot member Mateus Caltabiano.
"Such beautiful colors and what a comfortable, big-bellied posture. [Caltabiano] did this cat justice in portraying her comfort," said editing photographer Robin Schwartz about this picture.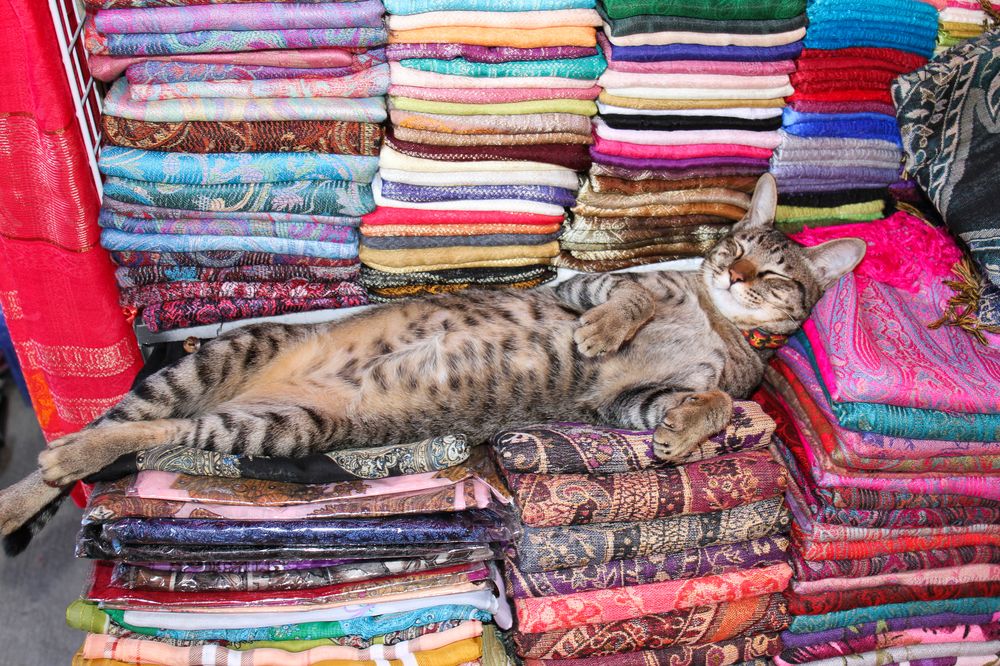 7. A Calming Sit
To calm it, a farmer sits on a sick cow, according to photographer Henrik Kaarlsholm.
"Having a sick cow in the herd affects any farmer deeply," writes the Your Shot member.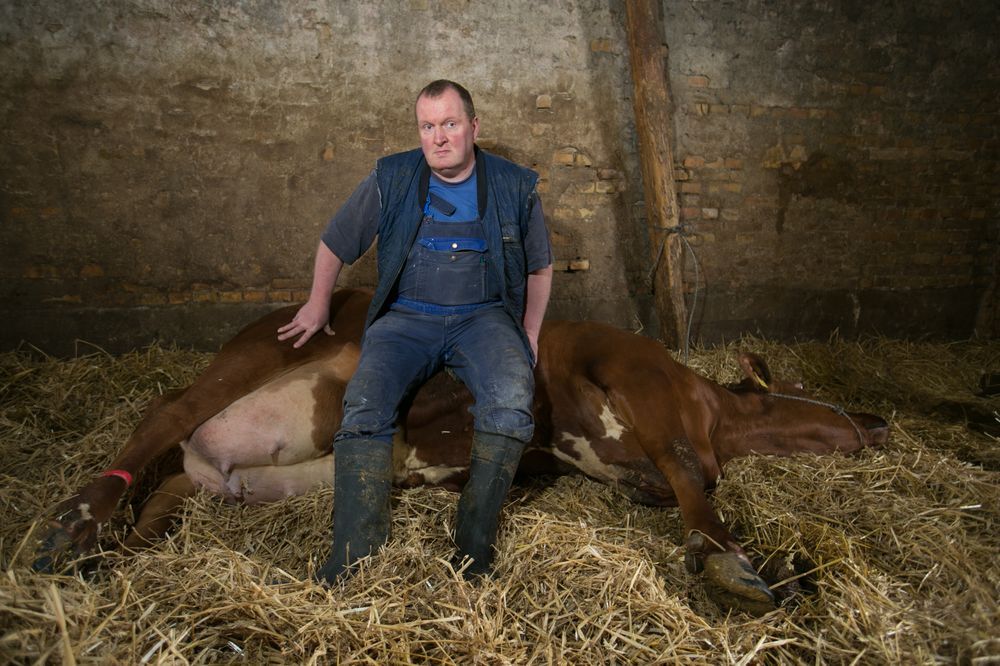 8. C'mon, C'mon
Dog Diego, right, asks Maya to chase him on this beach in Sequim, Washington, according to photographer Karen Murray's caption.
"This is harder to do than it looks," said editing photographer Robin Schwartz, referring to capturing this moment. "Wonderful, fast-shutter-speed capture."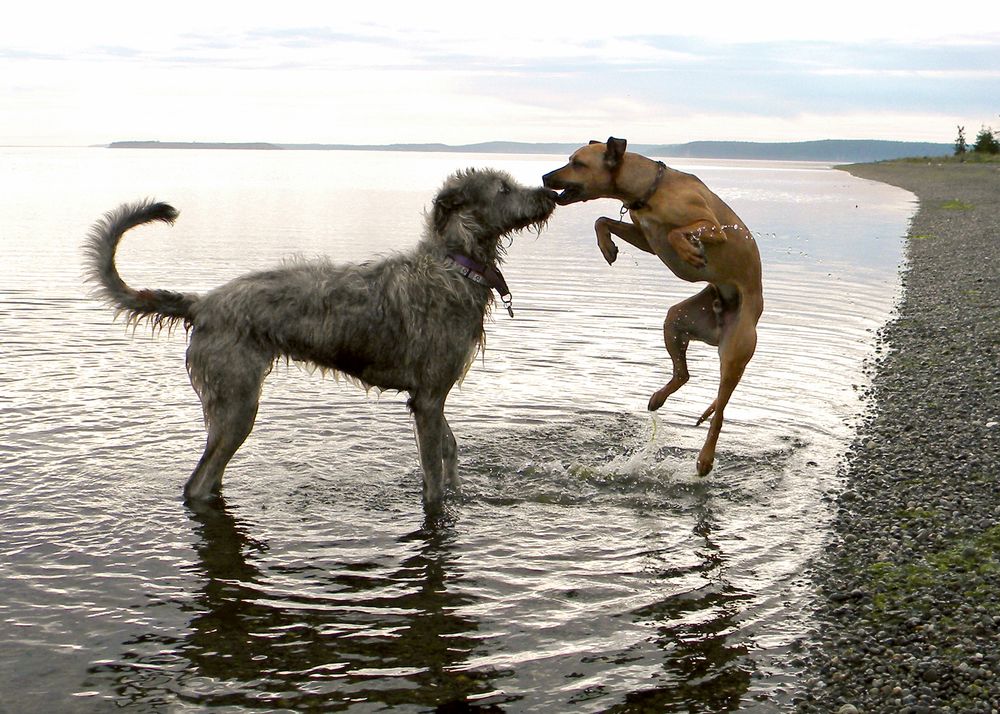 9. Portrait of Paolina
The orange eyes of cat Paolina contemplate photographer Giuseppe Fallica in this picture submitted to our latest Your Shot assignment, The Animals We Love.
Your photos can be submitted to the assignment until June 23, 2014. Photographer Robin Schwartz will select a number of the strongest pictures for a Your Shot story.
"Animals are my guiding light, my vice, my joy, my therapy, and my companions. If you identify with any of these statements, then this assignment is for you," says Schwartz.