Harry Scott from Workington, England has been alone since his wife died six years ago. In 2013, he began to visit his local McDonalds almost daily for a happy meal – and some company.
It became a way to ease the loneliness he felt since his wife passed away. On Sundays, he would meet his goddaughter for dinner, but otherwise, 6 days a week, it was a Happy Meal at the Workington, Cumbria McDonalds location for Harry.
When his 93rd birthday approached, Harry assumed he would have to celebrate it by himself.
Little did he expect that his McDonalds restaurant had a very special Happy Meal in store for him that day.
They prepared balloons and birthday banners – even whiskey and a special cake for their very favorite customer.
"He's a one-off. We get regular customers but he's one that stands out. He's bubbly and full of life, especially for a 93-year-old," the restaurant's personnel manager Jack Holliday told the UK's Daily Mail.
Harry has his own regular table at the restaurant, and since he does not have any children of his own, he says that he feels that the young people at the restaurant are like his children.
"When they threw the surprise party I had to wipe my eyes," Harry said.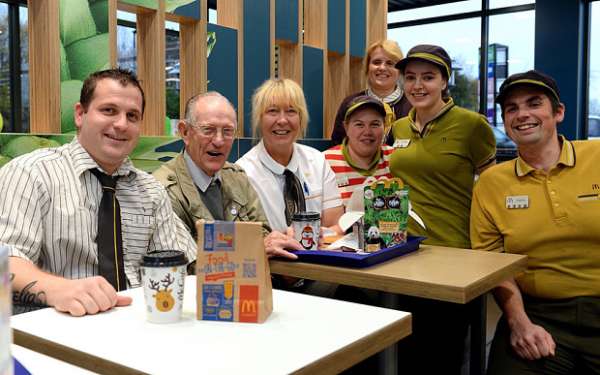 He now goes every day, apart from Sundays, when he goes to his goddaughter's for a meal.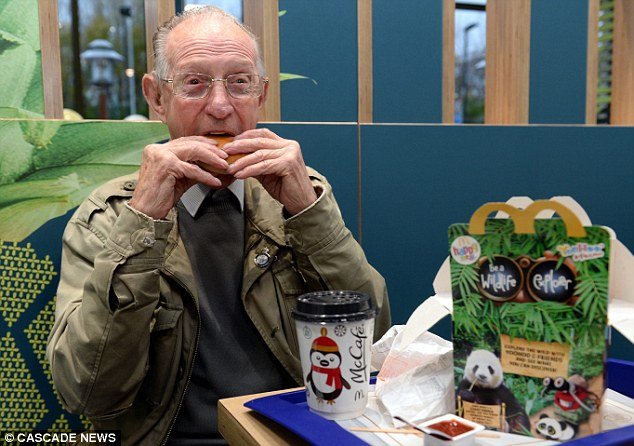 Please like if you enjoyed this moving story of unlikely friendship.