When I set out to build my dream car the vision was to tastefully integrate modern styling and technology into the classic 1970 Pontiac Formula Firebird body.  Built as a high-performance daily driver, this Firebird needed to include many luxuries and appointments found in late model sports cars such as a tuned suspension, fuel injected adjustable twin-turbos, climate control, power windows with a state-of-the art stereo and multimedia electronics."
The body modifications provide a contemporary yet bold look and will increase performance by managing and directing airflow. Plus there is an enormous amount of black. Although this Machine of muscle might appear to be a garage happy show car, it has lots of wear and tear with both street and track miles.
Nearly 2 decades ago, owner Tom Cronkright's first car as a juvenile was a 1970 Pontiac Firebird, but his spirited youth combined with a heavy right foot shortened that relationship. This latest 1970 Firebird stretches its 1200hp wings with the help of Brian Moat/All Speed Customs, based in Muskegon Heights, Michigan – where the muscle car has the proper pedigree for a build of this nature.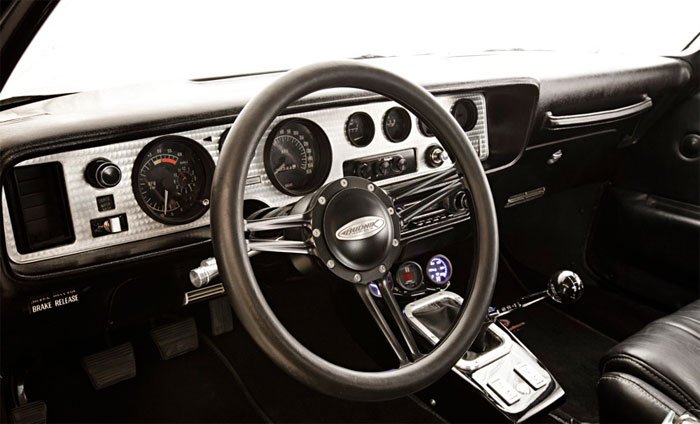 '
'
INTERIOR:
Custom design full leather interior with dual stitching
Front leather Corbeau bucket seats
Five point safety harness
Rear bench with molded buckets
Custom center console
Original-reconditioned Trans Am gauges
New aluminum Trans Am dash plate
Power windows with billet switches
Custom billet door handles
Custom Budnik split-grip sport wheel anodized black
Vintage Air Sure Fit climate control system
Ididit tilt steering column/keyless ignition
ENGINE: 475 Cu. In. Custom Twin Turbo Pontiac
Block – IAII cast iron 4.250″ bore.
Mains – billet 3.00″ splayed mains,
Crank – 4.00″ stroke crank – Scat 4340 forged steel