Sports stars can serve as fine role models, to say the least.
5-year-old Cammy Babiarz has not had it easy in life. The young girl was born with Rett syndrome, a hereditary disease that almost exclusively affects girls. If the syndrome develops, it fully hinders the development of the brain, leading, among other things, to serious malfunctions and motor difficulties.
Cammy can therefore not walk, talk or communicate like the majority of children her age. Instead, she speaks through her eyes. And through smiles. And laughter. The 5-year-old girl loves hockey and, above all, the Chicago Blackhawks. Cammy's idol in particular is the team's Duncan Keith.
The Chicago Blackhawks have, as is the case for many hockey clubs, campaigns to give something back to their supporters. In Chicago's case, fans had the chance to meet their idols through the campaign #Whatsyourgoal. Cammy's mother, Jackie, sent a picture of her daughter with the question: Could Cammy meet her idol Duncan Keith and score a goal?
The club adored smiling Cammy and invited the family to join them for a very special surprise. Cammy waited in the players' locker room, when suddenly, the door opened…
There in the doorway stood hockey star Duncan Keith. Cammy could hardly believe her eyes.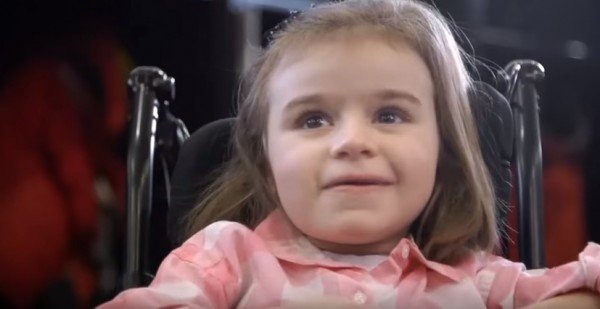 "She's five. She loves the Blackhawks, but we were a little worried that she might not recognize (Keith) off the ice," says father Bill.
Since Cammy can't speak, she has the help of a tool, Tobii, which allows her to communicate. Obviously, she took the chance to talk to her idol. She asked Duncan how many teeth he'd lost during his career. Cammy had lost five, the NHL star announced he'd lost 10 in his career.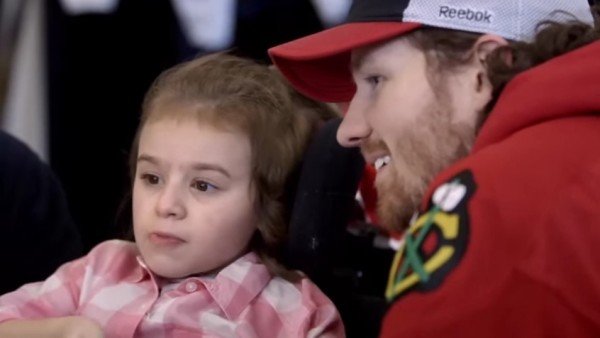 The exhilirating part came next. Cammy prepared to join Duncan out on the ice. With the help of a harness, she was attached to DUncan, who gently skated with her around the rink. They also scored Cammy's very first goal, together.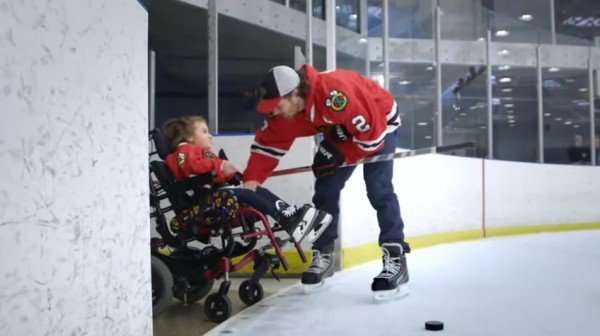 Cammy can't speak, but her facial expressions are worth a thousand words.
I practically wept watching this. Please share this with your friends if you were also touched to see how even small gestures can do so much.