For millennia, there has existed a symbiotic relationship between man and dog. Humans across cultural boundaries have partnered with these magnificent four-legged beasts in the name of necessity and companionship — from the earliest days of agriculture to later days of recreational hunting — and, in doing so, have forged an unbreakable alliance, their raw instincts paired with our ability to provide treats.
Let us take a moment to admire the elegance of nature, embodied wholly in the grace and composure of the modern canine.
Behold the majestic dog.
A fabulously nimble creature…
It's also a skilled and versatile hunter.
The dog's remarkable agility makes it just as comfortable near water…
As it is on land…
Sand…
Or somewhere in between.
With its acutely coordinated legs moving in unison…
It can handle any terrain.
Yes, the dog is perfectly elegant in every way…
Maintaining unflappable focus…
Whether in motion…
Or at rest…
Rarely do these magnificent animals err in judgement.
With the utmost levels of both speed and accuracy…
Every decision the dog makes is approached with supreme caution…
Ensuring that things always go exactly as planned.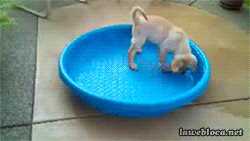 For these sprightly companions, even playtime becomes an impressive display of wit.
But it's not all fun and games for man's best friend. The dog occasionally stops to ponder its noble existence…
Maintaining its poise, of course…
Delicately taking it all in…

Instagram: thriverlife
And letting its guard down only briefly to enjoy the tender embrace of its master…
Before returning to its alert self.
But each long and glorious day will eventually come to an end, and even the dog must succumb to peaceful slumber…
Gracefully sleeping…
And remaining ever-vigilant.