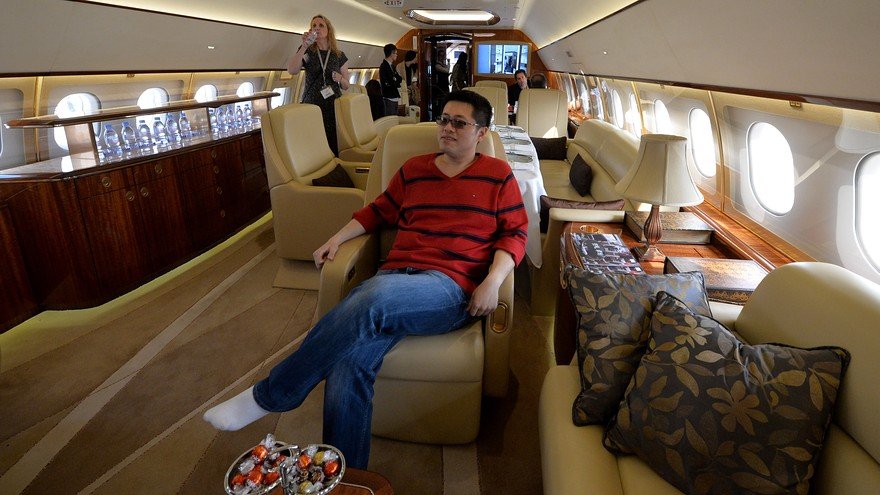 4 ways to snag a deal and travel like the super rich
No security lines or TSA pat downs. Cushy leather seats and legroom for days. Fido curled up right next to you. The perks of flying on a private jet used to be something only the rich and famous enjoyed. But that's changing — and in some cases, you can fly on a private jet or plane for the cost of coach (or less) if you know how to shop smartly.
A handful of sites and private jet companies are following the lead of hotels and hotel websites and offering last-minute deals on unused inventory, and others are changing the cost structure of private plane travel to make it vastly more affordable.
JetSuite.com, which flies to more than 2,000 airports, aggregates private jet flights with empty seats to offer daily "next-day" deals. You can rent the entire plane — a max of 6 seats — starting at just $536 each way, which shakes out to less than $90 per person. Past deals have included a flight for six people from Oxford, Conn., to Philadelphia for $536.43 (that's about $90 per person, which includes the 7.5% federal excise tax), a flight for four people from Los Angeles to Cabo San Lucas, Mexico, for $499 (that's about $124 per person); for four people from Orange County, Calif., to Chicago for $536 (that's about $135 per person); and for six people from Teterboro (in New Jersey, near New York City) to Nassau, Bahamas, for $1,074 (that's about $179 per person). (In all of the above cases, to get the per person rate, you must book all seats on the plane.)
It's not the only company offering these kinds of rates: Consumers may also get big last-minute deals, even when they aren't advertised, by calling a private aviation company within a few days from when they want to depart and asking whether they have deals going on.
Waiting until the last minute isn't an option for most travelers, of course. For those whose schedules can't accommodate a last-minute booking, there are other options, though they can be pricier. West Coast airline Surf Air offers unlimited private plane flights to and from roughly a dozen California and Nevada locales like Los Angeles, Las Vegas, and Santa Barbara for $1,750 per month (plus a one-time $1000 initiation fee); the airline operates up to 90 flights each day and it added Monterey, Calif., to its list of itineraries on July 13, 2015.
Those living on the East Coast will soon be able to fly with Beacon, another monthly membership airline, which will begin flying later this summer, starting with 18-20 daily flights between New York and Boston, as well as seasonally in the Hamptons and Nantucket. Memberships start at $2,000 per month (plus a $1000 initiation fee, which will be waived if you join before Sept. 1, 2015).
For some, the math works out: if you take four or more flights on one of these airlines, those tickets could amount to less than the cost of coach or business class seats.
And FLITE Air Taxi offers a la carte private plane flights for reasonable rates: A flight from Boston to Saratoga, N.Y. costs $541 per person (you will need six people to fill the plane, so $3,250 for the whole flight), as does one from New York City to Martha's Vineyard and from Block Island to Worcester, Mass.; this does not include federal excise taxes (7.5% of the cost of the flight) but does include other fees.
How can these and other similar companies afford to offer such low rates? One reason is that sites like JetSuite.com are offering seats on flights that would have been empty or at least not full. "Over 40% of flights that are flying private have empty seats," says Steve King, the co-founder of private jet charter company AeroIQ. Many times, these flights are simply repositioning so they can pick up passengers in another city and the companies would rather get some money from passengers than no money.
Companies like Surf Air and FLITE Air Taxi can charge less than big-name competitors, in part, because they use different planes — like, for example, single-prop turbo planes — that cost less to operate because they use less fuel than larger jets. "The operational cost can be a fraction of other planes," says Justin Hart, vice president of Surf Air memberships.
There are some significant additional caveats to discount private plane travel. Often these deals are only for one-way flights, so they will then need to find an alternative way back. It's also important to understand that there may be extra fees added to the cost of your flight — such as airport or landing fees — so read the contract to determine what's included and what's not. De-icing fees, for example, can be significant and may be passed on to consumers, says Jeff Trance, the SVP of private jets for the U.S. for jet charter company Air Partner.
And typically, you can't just buy one discount ticket on these planes; they'll want you to pay for the whole cost of the plane, so you'll need to find a group to go with you to get the most savings. Plus, if you want to save big, you likely won't get a brand-new primo jet, as these tend to cost more. And finally, there's the issue of safety: Private chartered planes tend to get in more crashes than commercial jets — though they are still far safer than cars. Most small-plane accidents were due to pilot error, so call the private jet company to determine how many hours of flying experience your pilot has.
Despite these downsides, the allure of private plane travel is strong thanks to how uncomfortable both the airport and flying experience have become. Here are some ways to save.
Be flexible
If you're flexible both on when you fly and where you fly, you'll likely get the best deals, says Trance. Call the company and ask about the cost differences between, say, a Saturday and a Tuesday and see if you can fly into a nearby airport. Fridays and Sundays tend to be the most expensive times to travel, says Justin Sullivan, the co-founder of FLITE Air Taxi. And, of course, last-minute deals can be significant so it may be worth waiting until about 72 hours before you want to fly to find deals, says Trance, though this is, of course, risky.
Know where the most likely deals are
The Northeast markets, California and the Northeast-to-Florida routes tend to have the most last-minute deals on them, says Bob Diener, co-founder of Hotels.com and Getaroom.com.
Shop around
Diener recommends checking out FlyVictor.com, as it compares the cost of private jet travel across different airlines. He says that JetSuite.com is the best known for last-minute deals. You may also want to consider having a broker do the heavy lifting for you, says Trance; brokers typically work on commission, so ask them what their commission is before booking and how you pay it, and tell them your all-in price tolerance ahead of time.
Go with a small group — but not too small
Trance says that if you travel with a group of seven or fewer you can often save significantly because you can opt for a smaller — and often less-expensive-to-operate — plane. You likely don't want a party of two because most private aviation companies require you to rent out the entire private plane (typically four seats or more).