Here's a fact that simply can't be stressed enough: do NOT leave your dog alone in the car on hot summer days, even if it's to run out for a very quick errand.
Remember that dogs don't have the same ability to handle heat like human beings. One restaurant owner, Rabie Hijazu, from Salzburg, has decided to take matters into his own hands.
Well aware that it's absolutely cruel to leave to leave a dog in the car while running out to "grab something quick", the restaurant owner came up with a simple, but brilliant little idea.
He placed this sign outside the entrance of his restaurant, Havat.
Dear guest,
Do not leave your dog in the car when it's hot outside just because you want to have a "quick bite".
Bring your dog with you. We have a big patio with a view, meanwhile, 'dog's best friend' can sit and drink as much as they want.
Greetings from us at Havat.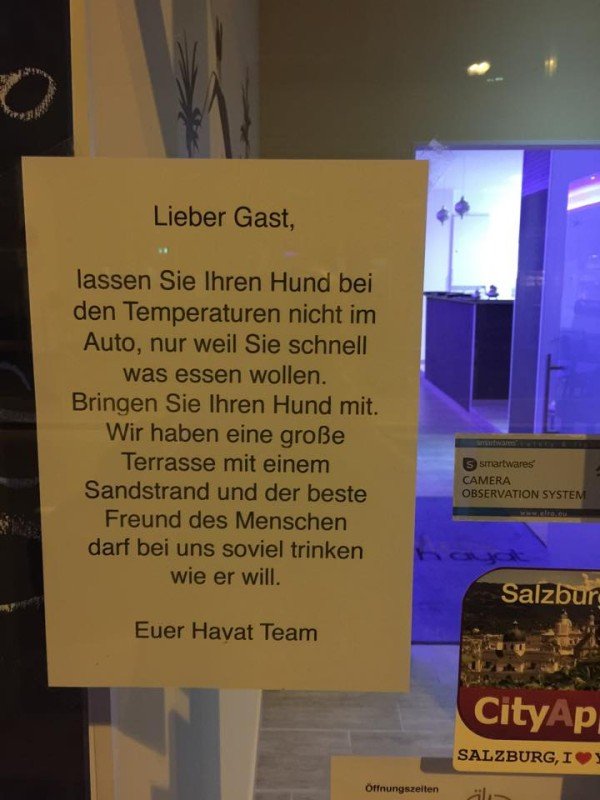 Rabie's picture went viral soon after he posted it on Facebook.

Please, continue to share and raise the awareness of Rabie's message, especially with summer soon on the way in many parts of the world. Please remind everyone you know that no animal should be left alone in a vehicle on a hot summer day.
WE love animals and believe in treating them with utmost respect. Please like if you do, too.