The dramatic moment a woman in Kansas saved a toddler locked inside a sweltering hot car has been caught on video.
Sarah Oropeza smashed the window of the vehicle with a tire iron in order to save the 2-year-old baby trapped inside.
She told local station KCTV5 that when she saw the child in the car after she ran out of a Famous Footwear store she manages in Merriam, Kansas, she banged on the window for several minutes with multiple objects before she could crack it.
She said:
It was just scary. The windows were totally rolled up, all the doors were locked. (The child) was covered in sweat.

I was thinking when I was hitting the window, what if she dies? What if I can't get her out? I just did what I thought was right which was to hit the window until it broke.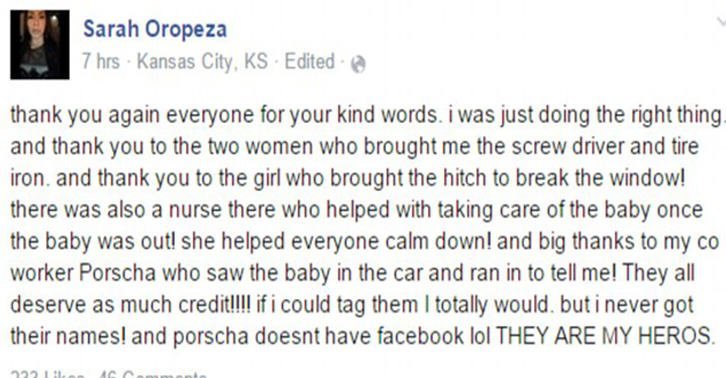 Two adults said they had left the child in the car for only four minutes, according to a police statement.
No charges have yet been filed, but the case is under review by the Johnson County District Attorney's Office.
We dread to think what would have happened if it weren't for the quick thinking of this woman!